Course Overview
Schools need to successfully differentiate themselves to stand out in the school market. In the highly interactive digital world that we live in, schools and all kind of educational institutions need to communicate their ideas, plans, efforts or even difficulties. Understanding the appropriate way to use website, social media and internet marketing to grow online presence will ultimately attract more parents thus more students. Even more educators frequently find themselves responsible for projects in the school that need to be documented and promoted, showed to wider audiences and disseminated to a variety of message receivers. The experience of business digital marketing can surely equip a modern educator and the school with valuable tools.
This training course is intended for teachers and staff of educational institutions who would like to promote their classes on the web, improve communication with their potential course participants and build strong online marketing channels. Participants will learn how to stand out in a crowded landscape and will learn what it takes to build a profitable organization online and offline.
Target Audience
This course is addressed to teachers, principals, trainers, educational counsellors, career counsellors, school psychologists, headmasters, school management and administrative staff working in primary schools, secondary schools, vocational schools, training centers, adult education schools, higher education and NGOs.
Course Objectives
Provide an overview of digital marketing
Knowledge of marketing strategies to promote educational establishments
Strategic and technical evaluations to design and make the best use of web marketing tools
Basic understanding of SEO
Handling strategies of Content Marketing
Strategy and find practical solutions
Theoretical foundations of digital communication
Knowing the structure of web articles
Basic understanding of Google Analytics
Understand the importance of having a concurrent digital presence
Underline the possible problems and obligations that come up when you use the Internet
Understanding of online security issues especially those concerning children
Receive feedback or mentoring from our experts
Create stronger connections between schools and communities
Methodology
The course methodology will ensure the active involvement of the participants in all phases, that is, prior, during and after the delivery of the course. More specifically, upon confirmation that the course will take place, the participants will receive preparatory material (if needed), which will cover all important concepts to be presented during the delivery of the course. The participants will have the opportunity to exchange feedback with the organiser of the course and the trainer as well as to request any clarification related to the content of the course.
Topics Included
Marketing strategies
Web marketing tools
Appropriate marketing resources
Digital presence
Google analytics
Online advertisements
SEO analysis
Content Marketing
Obligations
Communication channels
Learning Outcomes
By the end of this Digital Marketing Strategies for Educational Institutions course, participants will be able to:
Know fundamental elements of marketing
Create marketing strategies and tactics for their school
Manage promotion campaigns in Google and Facebook
Use different online platforms and tools to retain current learners and attract new ones
Pinpoint issues within their own strategy and find practical solutions
Put their site on the major search engines
Manage WordPress basics
Align their brand online and offline
Become acquainted with the Customer Value Journey
Apply the basic marketing principles to understand their students as "the audience" and adapt all forms of communication in a useful way
Use all the marketing tools needed to address concrete messages to obtain a positive reaction
Type of Certification
Certificate of attendance of the training course
Europass mobility certificate – to be issued by the applicant's NA
Day 1 – Introduction to Marketing
Ice breaking activities and introduction of the course program
Getting to know each other – Presentation of participants
Introduction to Digital Marketing for Educational Institutions
What makes a great website?
Demonstration of exceptional school websites
Best practice of school websites
Conducting your own website audit
Writing website audit Reports
Modules, each related to creating effective websites
Day 2 – SEO Strategy
The key elements of SEO
Onsite SEO analysis of your website
Ranking status report & keyword research
Conducting keyword research
Onsite optimization with keywords
Creating SEO strategy
Essentials of search engine optimization
Live demonstration how to search for the right keywords
Day 3 – Content Marketing
Introduction to Content Marketing
Writing for the Web
The Content Quality Audit
Content Planning based on a Keyword Research
Creating a Content Strategy
How to implement these strategies in your business
Day 4 – Social Media Marketing
Social media platforms
Social media activities on autopilot
Creating a social media audit
Conducting your own social media audit
Creating a social media strategy
Day 5 – Online Advertisement
Introduction on paid advertisement campaigns
Best examples of paid advertisement campaigns
Create A Facebook ad campaign
Time to brainstorm ideas for future development
Feedback session and testimonials
Course roundup and final remarks
5 day course fee: 400€
The total cost includes:
Pre-arrival information
Administrative support before, during and after the training course
Course tuition and training materials
Training Certificate of Attendance
Confirmation of Europass Mobility Certificate
Administrative and organisational costs
Coffee Breaks
Cultural activities
Additionally, we can arrange for:
Accommodation (hotels & touristic apartments)
Trips
Airport transfer
Local transport
For additional services such as accommodation, guided city tours, airport, local transfers etc. as well as for courses lasting more or less than 5 days, please contact us for further information.
For groups of more than 5 persons from the same organization contact us so we can offer you a group discount.
Available Dates
19/09/2022 – 24/09/2022
17/10/2022 – 22/10/2022
22/05/2023 – 27/05/2023
The above dates can be flexible, whereas new ones can also be provided to accommodate the needs or availability of participants. Please contact us to propose dates that better suit your group.
Thessaly Region
Thessaly is a geographical region in the central part of continental Greece. Its land is basically a large plain surrounded by high mountains. It borders to the north with the periphery of Macedonia, to the south with Sterea Ellada and to the west with Epirus, while on the east it is bathed by the Aegean Sea.
Thessaly is a blessed place. Let's not forget that mountain Olympus is in it, the tallest mountain in Greece, where according to Greek Mythology, the 12 Gods used to live. The verdant green plains, the majestic mountains, the magnificent forests and the crystal clear waters of Aegean Sea, introduce the visitor to a region of unique and unspoiled nature.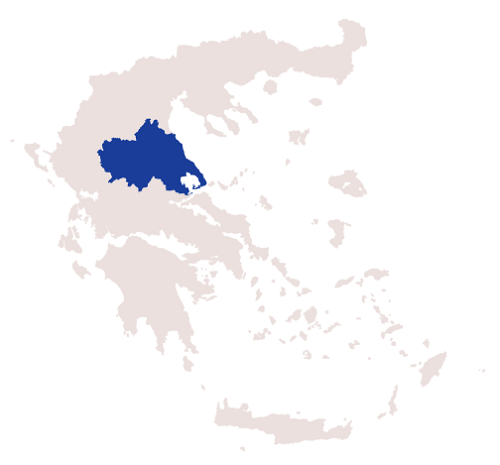 In this prefecture you can tour the archaeological sites, see unique prehistoric and historical findings, monuments, churches and monasteries, landmarks of the history of the area. In Thessaly you can select the discreet tranquility and seek inspiration in the diversity of the landscape.
Larissa City
Larissa is the capital and largest city of Thessaly region of Greece and capital of the Larissa regional unit. It is a principal agricultural center and a national transportation hub, linked by road and rail with the port of Volos, the city of Thessaloniki and Athens. Larissa, within its municipality, has 162,591 inhabitants, while the regional unit of Larissa reached a population of 284,325. Today, Larissa is a major commercial and industrial center in Greece. Legend has it that Achilles was born here, and that Hippocrates, the Father of Medicine, died here.
Larisa is a modern city built on the banks of Pinios river, and it is one of the most historic areas of Greece. It is a busy city, throbbing with life and strewn with monuments and points of interest. The city has beautiful squares, neighborhoods and parks, along with numerous commercial shops and many options as far as food and entertainment are concerned. It is said that the city has more than 1600 cafeterias (!) and is sometimes called as "the city of coffee". But except for relaxing and drinking coffee, you should spend some time on sightseeing.
Activities In the city
The First Ancient Theater of Larissa, one of the registered city trademarks is and the largest theater in Thessaly, having a capacity of 10,000 people and it is located on the southern side of Frourio Hill in Larissa
The Diachronic Museum which contains important collections, from Paleolithic fossils to Byzantine times, Hellenistic and Roman sculptures, with an increased number of exhibits.
The Mill of Pappas (Mylos tou Pappa) which is a cultural heritage museum and a living part of our city's history.
The Municipal Art Gallery of Larissa – G.I. Katsigras Museum where you can find significant art collections.
River Peneus, the river that runs through the city.
Fortress where the metropolitan church of Saint Achilleus is built.
The famous recreation area of Alcazar Park.
Τhe monument of Hippocrates where the grave of the "father of Medicine", a marble statue and the Museum of Medicine can be found.
More cultural information you can find here.
Activities In the area
After you finish with the city center of Larissa, organize trips to the coastal settlements with the beautiful beaches or to the inner mountainous villages with the rich history and cultural tradition.
The rocks formations of Meteora, a UNESCO monument, in the prefecture of Trikala, attract a large number of foreign and Greek visitors, due to their unique nature.
The ski lovers can take the route to the Olympus ski center or Pelion ski center.
The valley of Tempi, formed between the mountains of Olympus and Ossa (Kissavos), with its verdant vegetation consisting mostly of water-loving trees, is one of the most picturesque areas of Greece. According to the Greek mythology, Dafni and the goddesses Artemis and Aphrodite used to bathe in the sources of the area.
The architecture and folklore lovers can visit the picturesque villages of Pelion or Ampelakia with the characteristic architectural style and history.
In the prefecture of Larissa, you can also enjoy the sea and the sun in the great sandy beaches of the Aegean Sea and take on water sports and other related activities. Greece has ranked second in the world among 49 countries on the 2021 Blue Flag quality award list for beaches with a total of 545 of its beaches receiving the Blue Flag label and 26 of them you can find in Thessaly!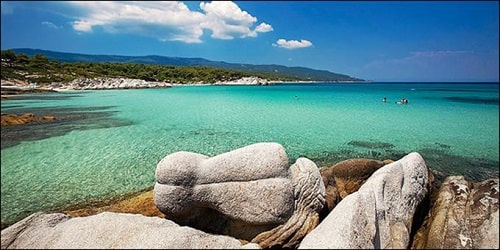 Thessaly is Welcoming You!!!
About the courses
We can provide laptops or any other technical equipment needed in our classrooms as well as other premises that we may visit during the training course. However, you are more than welcome to bring your own laptop.
English is the official language of our training courses.
We have planned interactive courses for a duration of five days / Each course has an additional excursion day.
All our trainees are provided with a certificate of attendance as well as all the necessary Europass or Youthpass Mobility documents at the end of their course. For more information on the Europass Mobility documents, consult your National Europass Centre.
We are flexible to design a tailor-made course for your organization, if there is a minimum number of participants, so don't hesitate to contact us to hear your needs and requests and adapt them in our existing courses.
You can express your interest in more than one course since the application is submitted by an organization. Therefore, you can choose different courses to be attended by several people from your organisation. Please check how many applications can be submitted by each organization and what are the aims of your organization in terms of the professional development of the staff.
About your application
There is not a deadline for expressing your interest in a course, however, there is a deadline for submitting your application for the Erasmus+ funding. The deadline for 2022 is the 23rd of February 2022. You can contact us before that, in order to help you with your application form.
You should apply through your organization (e.g. school, NGO, Adult Centre etc.) in order to be eligible for the funding provided by the Erasmus+ program, not as an individual.
The host organization that you may choose, must be located in a different country than your own organization. The mobility is approved only between two different countries.
Organizations, eligible for this kind of learning opportunities, are:

Any public or private Higher Education institution
Any public or private organization in the field of Vocational Education and Training (VET)
Any public or private school
Any public or private organization in the field of adult education
Any Youth organization or NGO

More information can be provided by your National Agency.
You do not need to send any money at this preparatory phase. Money needs to be transferred after the approval of your organization's application by the NA of your country.
PIC number is the 9-digit Participant Identification Code that is used to identify organizations and it is provided after their registration on the Erasmus+ platform.
OID number is the 8-digit Organisation ID, which is prefixed with an E, and it is obtained in order to identify organisations. Organisations that have already participated in Erasmus+ projects and have a PIC number, have been assigned an OID automatically therefore, they do not need to register again.
The National Agency of your country is responsible to approve or not your application. Unfortunately, we are not the ones to do so.
KAINOTOMIA PIC 921613006 & OID E10137242 numbers
Please note:
The schedule describes likely activities but may differ significantly based on the trainer delivering the specific session and the requests of the participants.
If you would like to discuss a specific topic, please indicate it at least 4 weeks in advance. Course modifications are subject to the trainer's discretion.
The trainer will send you the definitive course schedule approximately two weeks before the course as well as preparatory material (if needed), which will cover all important concepts to be presented during the delivery of the course.
If you don't find a course that matches your specifics, please contact us so we can arrange a tailor-made course that better suits your needs and requests.